"Have Your Say with SK"
The Failsafe Consensus Way
"Facilitation Skills Just Might Be The Best Kept Leadership Secret"
forbes.com
How do you want to decide in the future? How will you shape change? All multi-stakeholder organisations should anticipate how they will make difficult decisions once the available time for less-structured consensus-building has expired. We can help you to increase the quality and speed of your decision-making.
The way people decide is "decisive" for what they do together.
"Have Your Say with SK" will show you how to make decisions that are more generally accepted. With SK, change is designed together transparently, based on respect, appreciation and creativity. Organisations that decide with SK benefit more from the group intelligence of their members, are more appreciated, more cooperative, more resilient, and more self-motivated.
Objections and feelings of resistance are like sand in the gears of projects.
Systemic Consensing (SK-Prinzip®) is a modern participatory decision-making method that is proven to find durable solutions. It measures and minimises resistance in a pragmatic way, using resistance as a resource for innovation. All those affected are brought on board and made participants. Even quieter people find their voice. As a result, responsibility for decisions and the necessary follow-up is felt by all, which means that what gets decided gets implemented.
Basic know-how for leaders, designers and consultants.
"Have Your Say with SK" is suited to all people who participate in or accompany the decisions of associations, civil society, committees, companies, families, political groups, teams and multi-stakeholder initiatives. We teach the theoretical basis of SK well as some of the subtleties of facilitation according to the SK principle. The course is strongly practice-oriented, using real examples from our experience in different organisation types, maximising scope to apply what you have learnt. The course also forms the basis for later qualification as a "certified SK facilitator".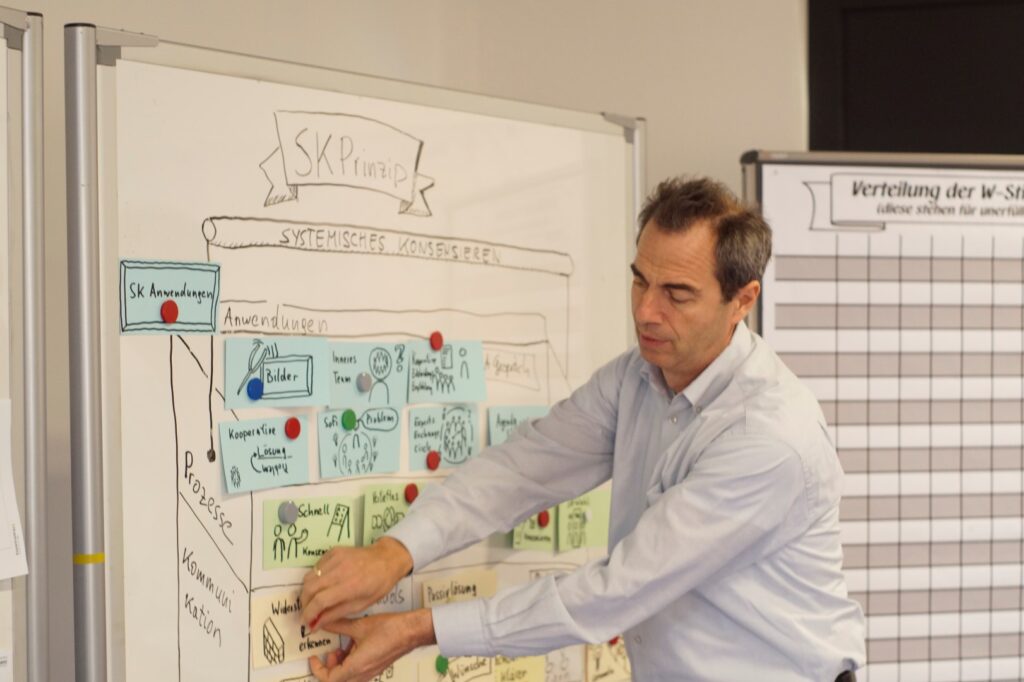 We are aware that people in our society have different amounts of money. If you would like to participate and the price should be an obstacle, please contact us directly. We will then look together at what possibilities there are.
The prices mentioned below are applicable for the entire 4-day training, including "basic user and facilitation training".
*Please note that the special package for corporate customers is exclusively offered when booking all 4 days.

In case you opt for the 2-day training only, the prices will be halved.
€ 1100.-
excl.
€ 300.-
conference fee

This is the regular price if the cost are borne by you or if you are self-employed with annual turnover of less than €28.000.
Price for
corporate customers
Price incl. conference fee (seminar drinks,
rolls , cake, lunch)
This is the regular price if the costs are borne by your employer or if you are self-employed with annual turnover of €28.000 or more.
Special package
for corporate customers*
Price incl. conference fee (seminar drinks,
rolls , cake, lunch)
Participation in the seminar plus half a day online meeting with your company.  to make the transfer into everyday life easier for you. Possible formats: Lecture, workshop, introductory seminar, participaton consulting, facilitation services, Q&A with …
Trainings in English will be held in Graz/Austria if there is sufficient demand. So please contact us if you are interested.
Our general terms and conditions apply.